2012 is going to be a big year for me. I have a number of huge projects that I'll be working on this year. For this blog, my shop, my self, my home, and my art. Because I'm rather obsessive about plans, goals, and projects, I thought I would share what I'm planning to work on in this coming year.
With all of the big projects I'm going to be working on, I decided this year is a good year to choose a word. This is a pretty popular idea, to choose one word to guide your year. It can be anything you want, even two words or a phrase. (
You can read more about this idea here
.)
I've been debating for days and days, but I just couldn't get this word off my mind when thinking of next year. So, my word for 2012 is ¨
Alive
¨. So often, I think I let beautiful moments and amazing things pass me by, and I want this year to be all about living, feeling alive, and making the most from each and every moment. I want to spark life into my writing, my art, my creations, my imagination, and my self.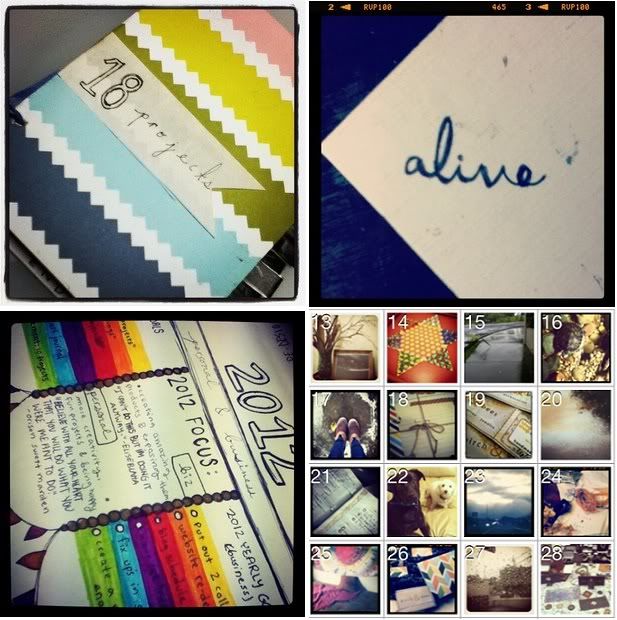 (18 projects, My word for 2012
Making Plans for 2012, My Photo 365 Project)
Yearlong Art/Personal Projects:
-Photo 365 (In instagrams!)
-18 projects
-My Birthday List (from 2011)
-Starting a 2012 Art Journal
-Sending out presents and gifts to all the people who have been so supportive to me
-A Secret Project! (I won't be sharing any more about this until the end of 2012!)
For The Shop:
-Hello 2012: Mini-Shop Update
-Spring/Summer Collection 2012
-Setting up a real budget
-Scouring for the best supplies locally and online
-Investing in some educational books for artists/creative folks in business.
For The Blog:
-More photography
-Original DIY's
Other Projects:
-Cleaning & Organizing all the closests in our home
-Cleaning & Organizing in the bedroom
-Another "Studio Improvement" Project
-Improving my sleep schedule & daily routines
I acutally have more than this planned, but I don't want to spoil all of the surprises! I'm extremely excited for 2012, I feel like it's going to be awesome.
I think numerous times throughout 2011, I wondered why I bother to put so much effort into this blog, and wanted to give up. So, I want to thank you, you lovely person, for taking the time from your busy day to visit me. Each comment and small gesture gives me the drive to make 2012 even better! So, thank you for taking the time to visit, read, and comment, it means a lot to me!

Today I'm getting everything ready for the new year, prepping my new art journals, getting the shop update ready, and packaging some late presents for people.


Tonight we're going way up in the mountains to watch the fireworks. It's one of my favorite traditions to do with Daniel. From so far up, you can see across the entire valley and everyone shoots off fireworks at midnight. It's really a beautiful sight.
Do you have any big plans for 2012? Are you doing anything to celebrate New Year's Eve?
peace & love,