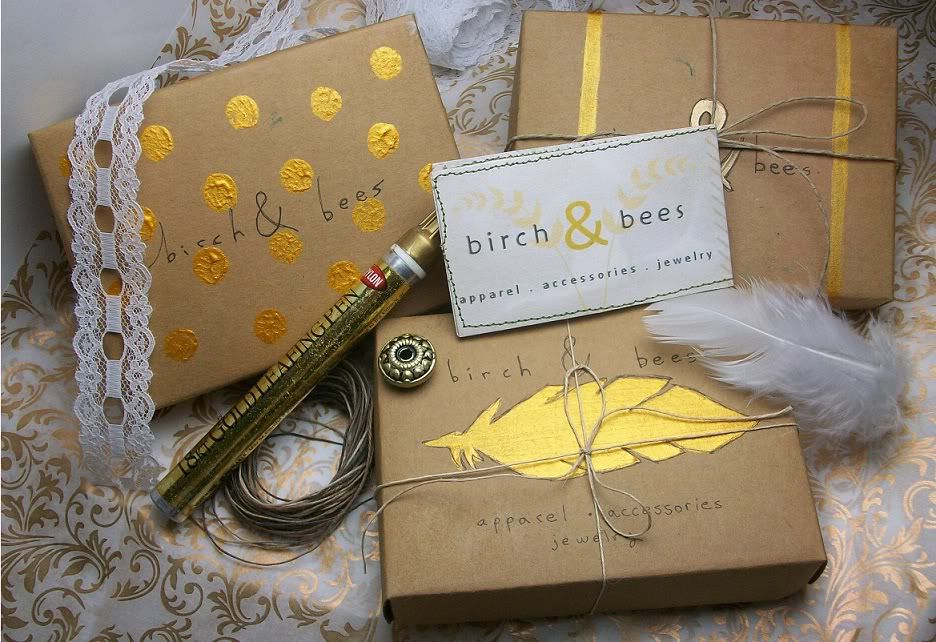 Last week I shared
my latest packaging update for the shop
, (which I'm really pleased with). And, as promised, I'm sharing some advice on making packages and promotional materials on a tight budget. I really enjoy each time I get to wrap up something I've made and send it to someone. But when you're on a tight budget, then you have to be more creative and crafty. I'm still refining my process and trying new things. But, I've learned many things about developing lovely packages and marketing materials on a budget.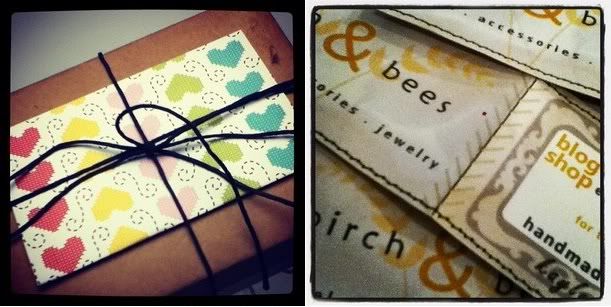 (A simply wrapped package, My handmade business cards with sewn edges)


Be Frugal, But Splurge On Important Things.
I try to keep my packaging costs down, as I would rather put more emphasis in the quality of the product. To save money, try making your own tissue paper wrap or confetti. Or make a stencil of your logo, to paint onto your bags and boxes. You could also make your own bags and boxes, or attempt to buy them wholesale for a discount. If you can keep the general packaging and marketing costs down, then you have more room to spend money on things you can't produce yourself. But, don't be afraid to invest in a material that can make a world of difference to the presentation of your goods.
Be Crafty & Creative.
Don't let the ways you've seen business cards be made before influence how your cards are made now. Try using simple cardboard panels to cut out your own business cards. Add colored papers, textures, shapes, colors, and extra embellishments. Play and experiment with different designs. Don't be afraid to "break the mold" and do something really different! That's how unique brands get discovered.
(Feather tassle keychains I give away with orders for my shop, A pretty package being sent off)
Incorporate Your Brand In Interesting Ways.
As someone who sews handmade clothing, and makes a lot of feather jewelry, I use these two aspects a lot in my branding. I typically sew stitches, fabric swatches, or lacy bits to my business cards. I also include pretty feathers spread throughout the package. Look at your business and see how you can bring the aesthetic of your creations into your marketing. Crochet? Attach some small crocheted pieces to the cards. Paper Art? Make colorful, textured paper cards in a mixed media style. Try picking out 2 or 3 materials that you use frequently and see if you can incorporate them into your packaging in a creative way.
Put Effort Into It.
The best packaging and marketing materials are ones that artists put effort into. As irrelevant as the packaging may seem to the seller, it makes a huge difference for the buyer. If you put a lot of effort into a package, the recipient will most likely notice. I don't recommend developing marketing materials/packaging and never update them again afterwards. At least once a year you may want to re-examine your strategy and see if any improvements can be made.
(One of my first packages from 2011)
Consistency Doesn't Have To Matter.
I like to approach the packaging process as gift-wrapping. Each one can be unique and different, but always held together under the theme of my brand. Each customer to purchases an item from me will always receive the unique, special packaging. Their package won't look like any other I've made before.
Personally, I feel that it's a smart idea to "DIY" my marketing and packaging materials. I think it adds a more personal feeling to my business. It shows that I am invested in my products, my business, and my customers. It also gives me a feeling of authenticity as a handmade seller and artist, which is incredibly important to me.
(I do think that if you are finding your art/craft to be in high demand, then it may be worth it to buy more marketing and packaging supplies. Simply in order to save time for making, creating, and shipping out all the orders you are receiving!)
Well, I hope these little tips and bits of advice can help you make amazing packages and promotional materials. If you have made lovely packages, I would love to see them!
peace & love,