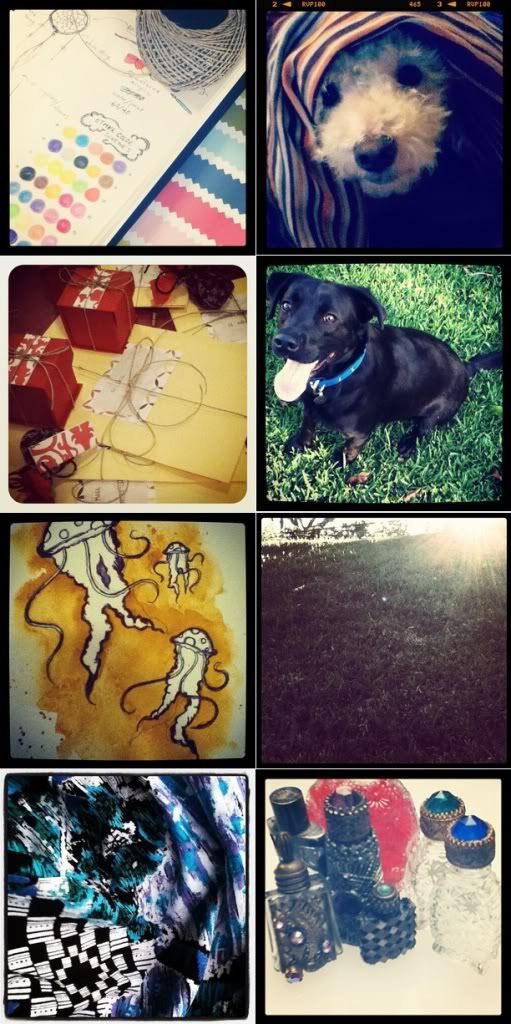 (from top to bottom, left to right)
Reading through my old sketchbooks for inspiration, Samson under the covers!
My gifts for Daniel's family this year, Bear playing in the yard
Jellyfish drawings I made as gifts this year, A rare sunny day
An amazing dress I was given, Some beautiful vintage perfume bottles from my grandmother!
(other christmas goodness, not pictured)
The vintage key and ring that Daniel got for me in Italy, A delicious brunch with waffles and fruit, All the messes I created trying to get my presents ready in time, Plenty of laughs, Sparklers and fireworks, A slew of new fabrics, Floating paper laterns, Seeing old friends again, The beginning of "summer", Making new plans, Too much coffee and cuddling.
This Christmas has been such a wonderful one! I couldn't have asked for better. Right now, I'm still trying to get everything ready for the new year. Which entails things like searching for the perfect silver and gold streamers, mindlessly searching for productivity plans for 2012, and getting the "Hello 2012" shop update & sale ready! I have a ton of fun projects I'm planning, and I can't wait to share more about them in the next week!
How was your Christmas? Do you have any fun plans to celebrate the arrival of 2012?
peace & love,