It's been 9 days since Daniel returned from Italy. Once he was home again, I couldn't bring myself to the computer for more than a few minutes. We had so many stories to tell, catching up to do, and enjoying being together again. It was nice to spend a little time away from the blog and the internet. I feel quite re-vitalized and ready to get back to it!
I recently joined Instagram and, like everyone else, I adore it! Here are some snapshots from the past weeks.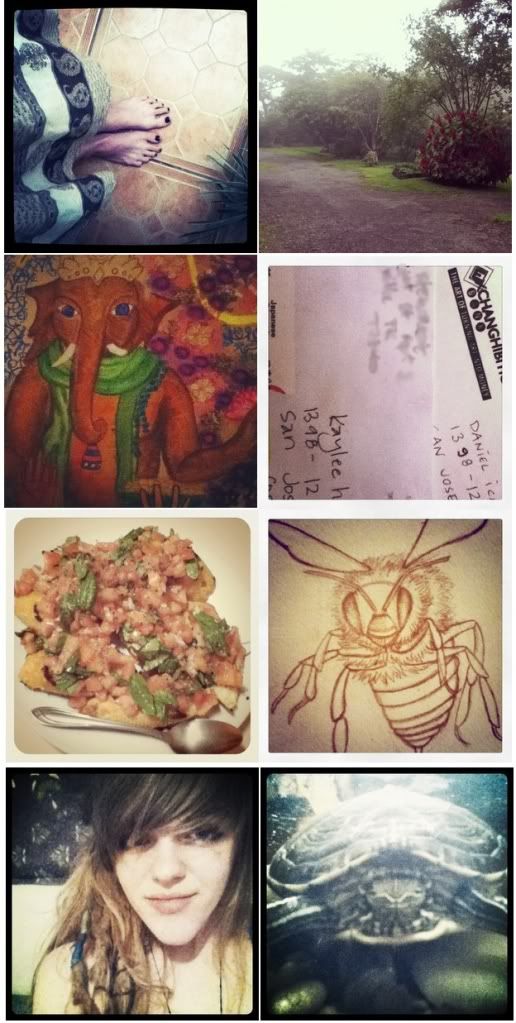 1. Long skirts & bare feet. 2. Cloudy Mountaintops. 3. "Ganesha" Painting I'm working on. 4. Happy mail day! 5. Tomato Bruschetta, Yum. 6. "Happy Bee" in progress. 7. My new haircut. 8. Donatello, my turtle, being silly.
I've been on this amazing photography binge. I see amazing photographs everywhere, but I need to get used to carrying my cameras around, so I can always capture the moment. If you want to find me on Instagram, my username is
kayleebee
.
Do you love taking photographs? Do you use Instagram?