I'm a
huge
interior design junkie. I love to curate and decorate spaces, rooms, homes, shops. So, as you can probably imagine, I'm wildly obsessed with having a lovely studio space. Since I'm all about fresh beginnings right now, I want to do some fun DIY projects to decorate and organize my brand new, lovely studio space.
For the last few days I've been combing through loads and loads of tutorials which I bookmarked years ago, and new blogs I recently discovered, to compile as many fun DIY projects as I possibly could. I've got a decent pile of fun projects I could tackle, and these 9 are definitely on my "Must-Make" list.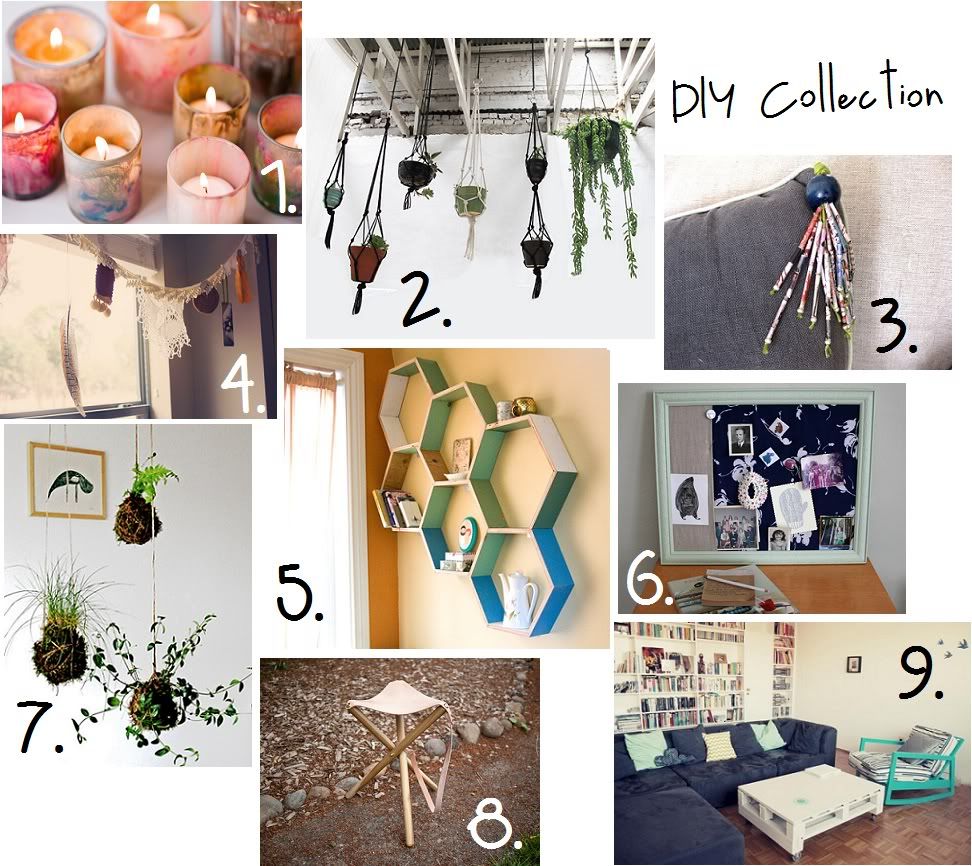 1.
Painted Candle Votives
from Once Wed.
2.
Hanging Succulent Garden
from Skinny Laminx.
3.
Paper Bead Tassels
from Design Sponge.
4.
Boho Bunting
from Paper N Stitch.
5.
Honeycomb Storage Shelves
from Design Sponge.
6.
Fabric Bulletin Board
from Paper N Stitch.
7.
"Kokedama" String Garden
from Design Sponge.
8.
Tripod Stool
from Design Sponge.
9.
Wooden Pallete Coffee Table
from Paper N Stitch.
Aren't all of these projects amazing? I can't wait to get started! By the way, the definite highlight of my project hunt, was finding the "Honeycomb Shelves" from Design Sponge. After I named my blog "Birch & Bees", I found that tutorial, and literally squealed with delight. I think it's so fitting.
If you really love these tutorials, take a quick stop at the blog/website and let them know how great they are!
(EDIT: Do I love Paper N Stitch & The Design Sponge or what? I only linked to 7 of their tutorials... Gee.)