I've always been very fond of working with old t-shirts. There was something really fun about walking through thrift shops, finding cheap shirts and cutting them and re-using them to make new clothes. My favorite fixes for t-shirts deserve a blog post all their own. There are so many fun things you can do with shirts that have nice prints/graphics or just a great fabric.
This is a tie-dye t-shirt I made at art school. It used to be a white cotton, V-neck shirt. I got bored with the plainly look of it, but I loved the dark shades of tie-dye.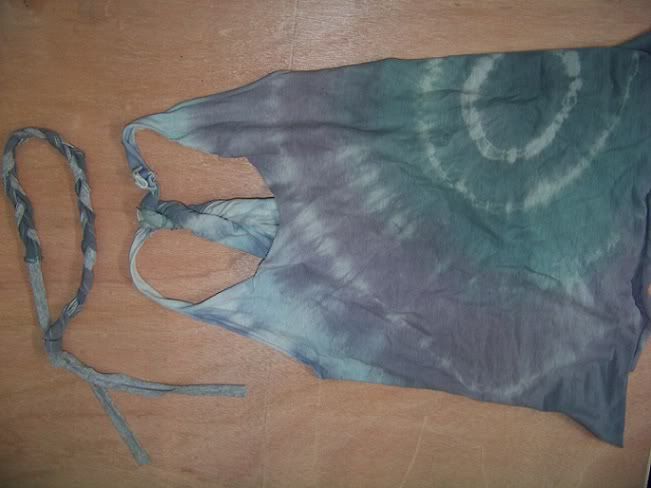 I cut it into a loose tank top shape (it actually has more of a "halter top" style cut). Then, I cut the shoulder straps at the hem on the shoulder, twisted them together for a pretty effect, and sewed it in place. It was actually very simple.
I cut the bottom hemming off of the shirt, and used it to make the matching headband. It actually works out perfectly. If I have 2 bottom hems of a shirt, I can re-make the t-shirt & give it a matching headband! Fantastic, right?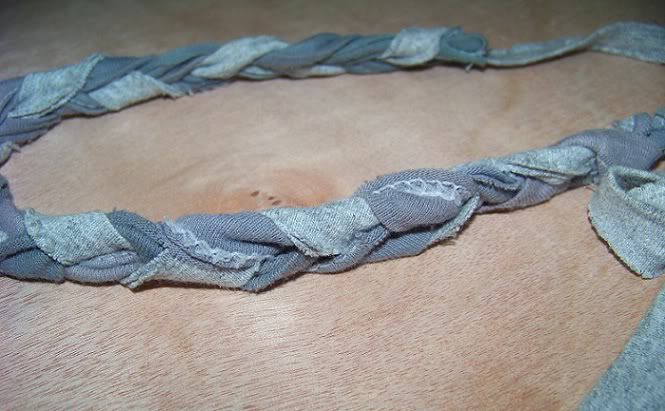 By the way... I'm actually wearing this exact headband in
this photograph
and in the photo on the right. My favorite thing about this new idea I've discovered is that the headbands can be used in other outfits as well, not just the one it was made out of!
Is this idea really cool? Or am I just stumbling upon something that everyone's already seen before?
I'm definitely obsessed with this idea. Especially because I told myself to re-use, re-cycle, and re-purpose as much old clothing as possible before buying new fabrics. So once I actually buy some new fabric, I can cherry pick the designs that I think will look the best.
Ah, I'm in love with sewing again.