Since I started creating art about 8 years ago (Wow!), I've come to realize that I draw inspiration for my projects, collections, and future creations from specific places, people, and things. I want to share some of my most favorite sources of inspiration. Hopefully they can inspire you too!
I've only just begun my exploration of amazing blogs, and I can't wait to see how many more I stumble upon. It seems as though every day I'm finding more and more awesome and inspiring websites. Here are some of the blogs I follow & read daily.





(Click the banners above to visit their respective websites.)
One of my favorite blogs is
Studio Sweet Studio
, which features tours of artists' studios. I'm also a big fan of
The Selby
's photographs,
David Fullarton
's collage and journal work, & the amazing mixed media paintings of
Jesse Reno
. There are so many amazing artists and creative people nowadays, it's difficult to choose my favorites.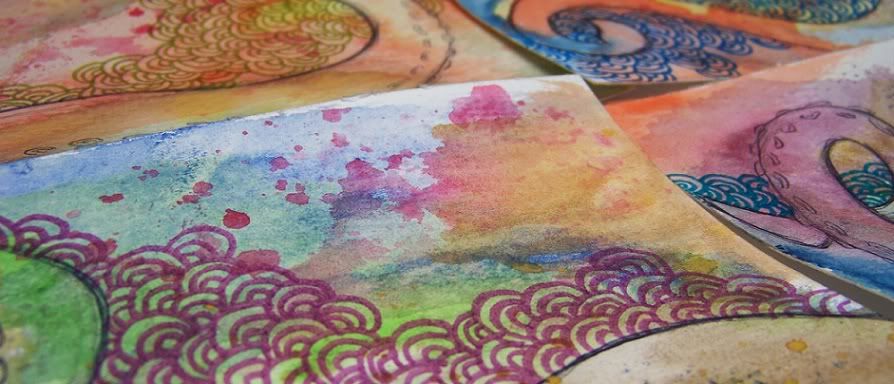 One of the easiest ways for me to get inspiration is to make a gift for a friend or family member. Whether I start making Christmas Presents in July, or just whip up a little special something for my best friend, it gets me creating. Sometimes when I get ready to start whipping up some gifts, I spend a some time looking at tutorials, shopping for a new material, and preparing the projects, which is fun and inspiring by itself.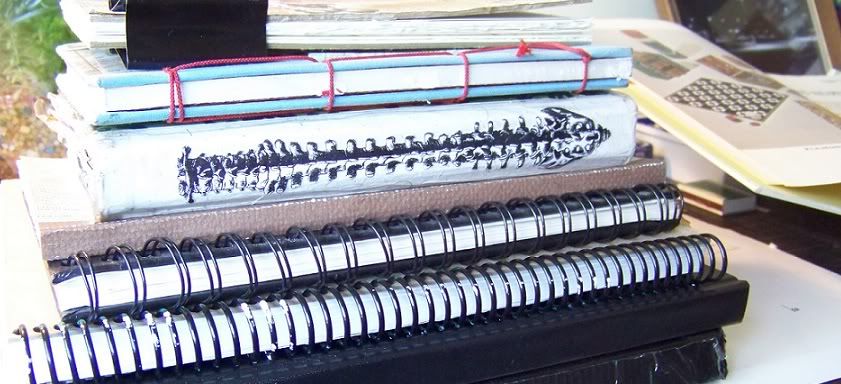 My old sketchbooks are full of interesting thoughts I've had, things I've written down, aimless doodles, amazing drawings, completed artworks, and more. I'm always interested and amazed at who I was a few years ago. Sometimes while looking through old sketchbooks or photographs, I'll take something from it that really inspired me. Such as a color scheme, a texture, a word, a phrase, an idea itself, and try to make something new out of it. Or incorporate it into my newest project in someway.
In turn, whenever I get any funny idea, thought, urge, anything, I put it into my sketchbook.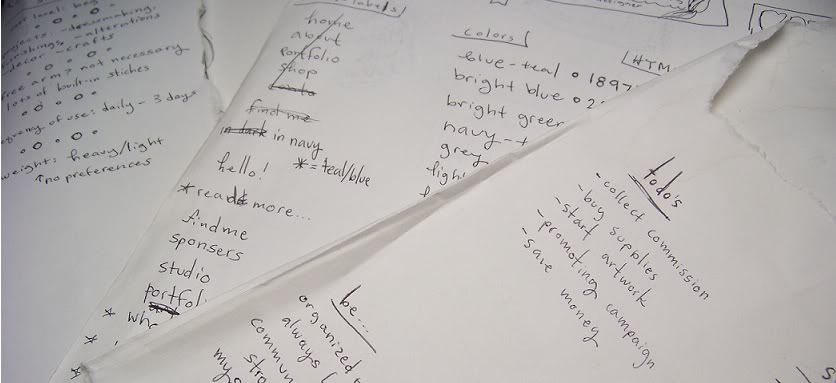 This one may only apply to some people, like myself. When I feel stuck, I make lists of projects I want to create, blog posts I want to write, tutorials I want to create, supplies I want to buy, ideas I have in my head, etc. (If you don't like making lists, try doodling/drawing your list.) Once I get a visualization of all the things I'm dealing with right now, it makes it so much easier to pick something to work on.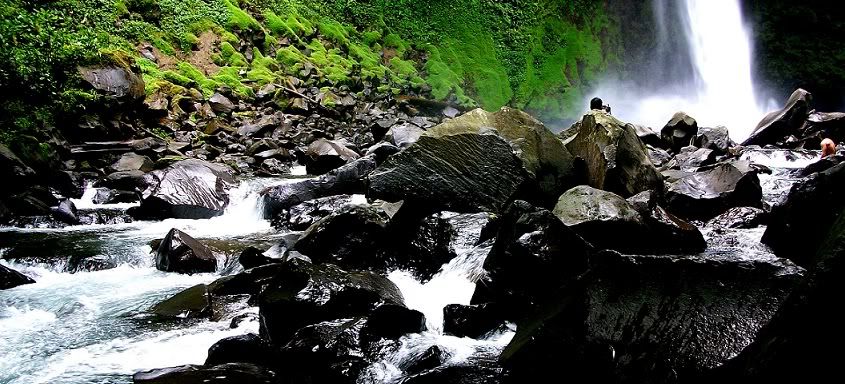 Spending some time outside has too many benefits to jam-pack in this section. It's good for your body, mind, soul. It eases your eye muscles, it relaxes your nerves, and boosts your creativity. No matter what part of the globe you live on, you're bound to find beauty right outside your front door, if you just look hard enough.
"The artists in each of us get that mental and emotional stimulation when we spend time outdoors. It is enough to look at the greatest work of arts to see a magical effect that nature has on our senses and our creativity. Even those who doubt that they possess an artistic streak, feel more creative and inspired as soon as they step their foot outside the house and let themselves be absorbed by the beauty of nature." -Source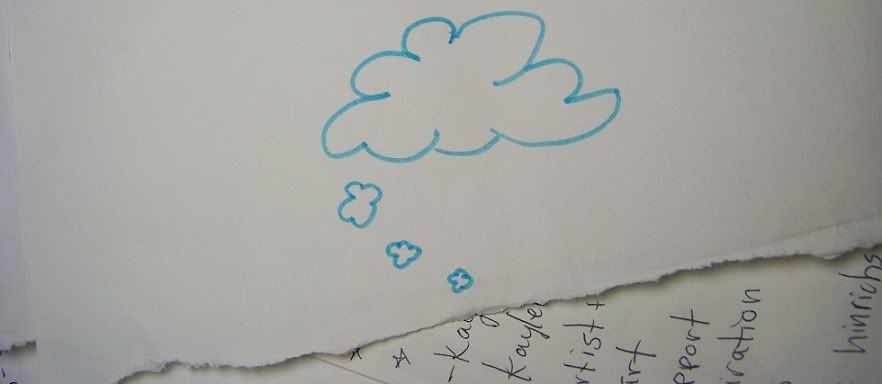 I often day-dream and fantasize. I imagine what my dream studio would look like, what it would feel like. I think about how it feels to be sewing for hours, and visualize the beautiful things I'm going to make. Visualizing these fantasies and imagining how they feel and appear can help them become a reality. I also day-dream to imagine what kinds of things I see myself making, then I try to make them!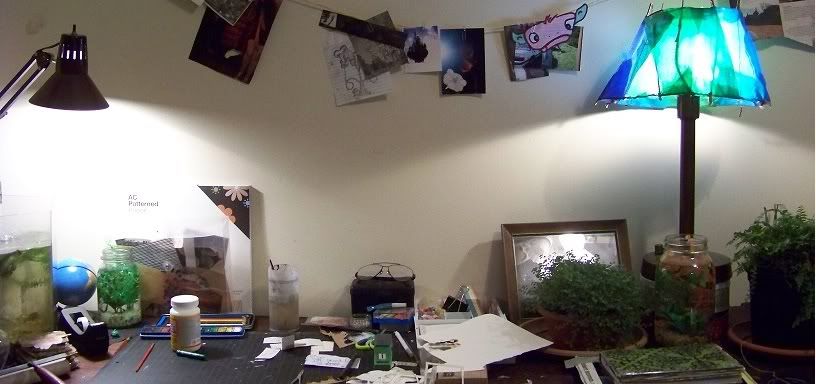 I spend a lot of time alone. Sometimes I love it, and sometimes I wish it were different. But I find that spending time by myself and away from the computer or phone really gets my creative juices flowing. I may not have the ability to interact with other people too much, but in turn, I gain a deeper understanding of myself. Plus, when I take the time to be alone with myself, I feel that I am relaxed and clear-minded for the rest of the day.
I hope that some of my inspirations can inspire you! There are a plethora of other places and things I specifically look to for inspiration & I simply couldn't fit them all on this list. (I may have to do a second part...)
I want to know, what inspires you the most? Are you jazzed up by seeing other people make things? Or does the mood strike you most when you're outside? Or at a get together with friends?