I shared
my feather collection
a couple days ago and mentioned that I also collect rings and hair beads (for my dreadlocks). I decided to share my ever-growing ring collection with you as well. Besides the Turquoise Ring, all of these were created by
Daniel Icaza
.

(From Left to Right): A new ring (yet to be titled), my "Turquoise Ring", (belonged to my mother), "Lace" Ring, "
Mokume Gane Bands
" 1, 2, 3, & 4, "
Crater" Mokume Ring
, "Stacked" Ring (laden with cubic zirconiums),
the first "Satellite" ring
, and the "Princess" ring containing an Opal stone, (I think).
My daily wears are the first two on the left, and the first two on the right (Untitled, Turquoise, Princess, &
Satellite
).
To give some context to my love of rings, I'm one of those people who feels naked with without wearing rings. I simply cannot go for too long without wearing them, or else I feel very uncomfortable & under-dressed.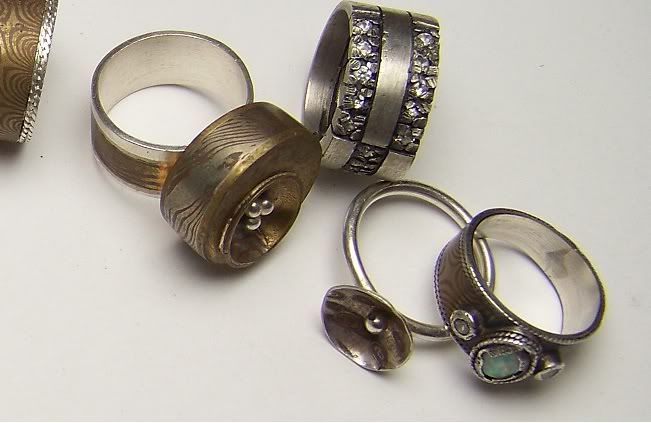 I'm not picky at all about my rings. I love variety and different styles. But, similar to my style tastes, I like metal, wood, glass, natural objects, and raw stones.
In my collection I have a large Turquoise stone, an Opal stone (still debating this), and plenty of Cubic Zirconiums. All of which I love and find beautiful. I'm hoping to procure plenty of rings with raw stones in the future, as these seem to be my favorite.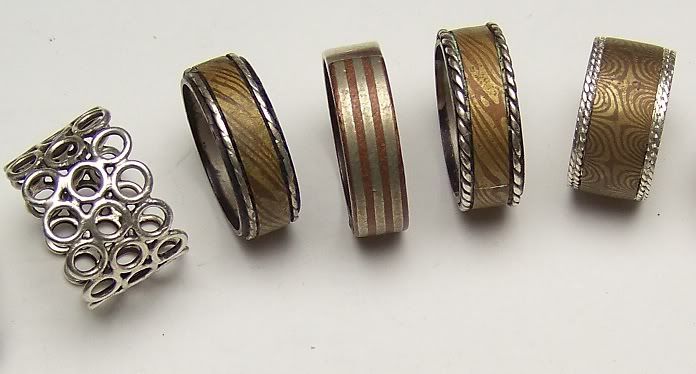 I'm proud to say that my ring were completely handmade (including the turquoise ring, which is from my mother). And the amount of love, effort, time, and patience that went into each of my rings makes me feel special when I wear them. In my opinion, that is the most important part about wearing jewelry.
If you would like to read more about Daniel Icaza's work and & jewelry,
click here
.
peace & love,