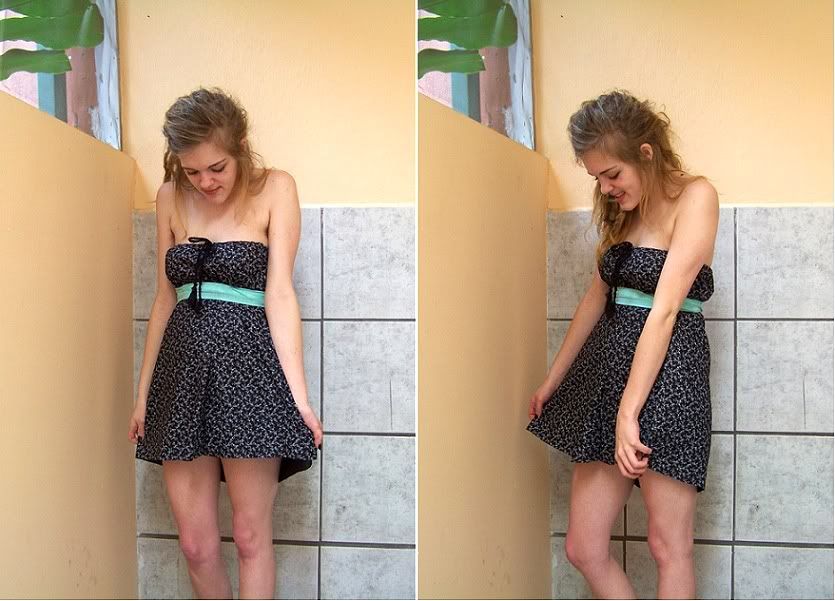 Since we've started a new month, I thought I would give a little update on what's been happening lately.
My Newest Dress
. I worked on this all Monday & Tuesday. (You can see me working on it in my
Photograph An Hour post
.) It's not quite done. I still want to add a hem and black lace to the bottom of the dress. But isn't it cute? I love, love, love it.
Studio Decorating
. It's been difficult to create the inspiring and relaxing place to work that I imagine in my mind. The best I can do is to soak up some more inspiration and just keep trying. (These Pinterest Boards are keeping me quite creative:
Here
,
here
, &
here
.) Eventually, I hope I can finish up this project and share a tour of my new space. It's at the top of my to-do list.
Fabric Shopping Trip (Round Two)
. I get a real thrill from scouring racks of fabrics and finding high-quality for a low price. I'm definitely a penny-pinching, bargain-hunter. Shopping for fabric is just so inspiring and fun, it can always lift my mood. (You can see my
finds from Round One here
.)
My 8 Week Project
. Three days ago I started my 8 week project. It's not something I'm going to be regularly blogging about, but I will share some of the changes I make and things I do. I'm excited for the project because it's something to keep me focused.
Slowing Down
. I've been trying to remember that everything happens in due time. I wish that I already owned a shop and and was successful. I try to remind myself each day that this is a long journey and it doesn't happen overnight.
Elsie at A Beautiful Mess
wrote a
short, sweet, and "to the point" post
about this.
Anticipating My "BirthWeek"
. Because I love birthdays, I celebrate for the whole week around my birthday. My "BirthWeek" doesn't occur until next month, but because BirthWeek is my favorite holiday, I'm preparing early!
What does August have in store for you? What's have you been up to?