To celebrate the new year, I decided to put together
a little shop update
! This update consists of two small collections of jewellery that I'm extremely proud of. With the start of this new year, I started to look more closely at my shop and this blog, to see what I could improve upon. Well, after a few brainstorming sessions, I've begun making some small changes here and there. I'd love to share my new creations and the changes that are happening in
my shop
.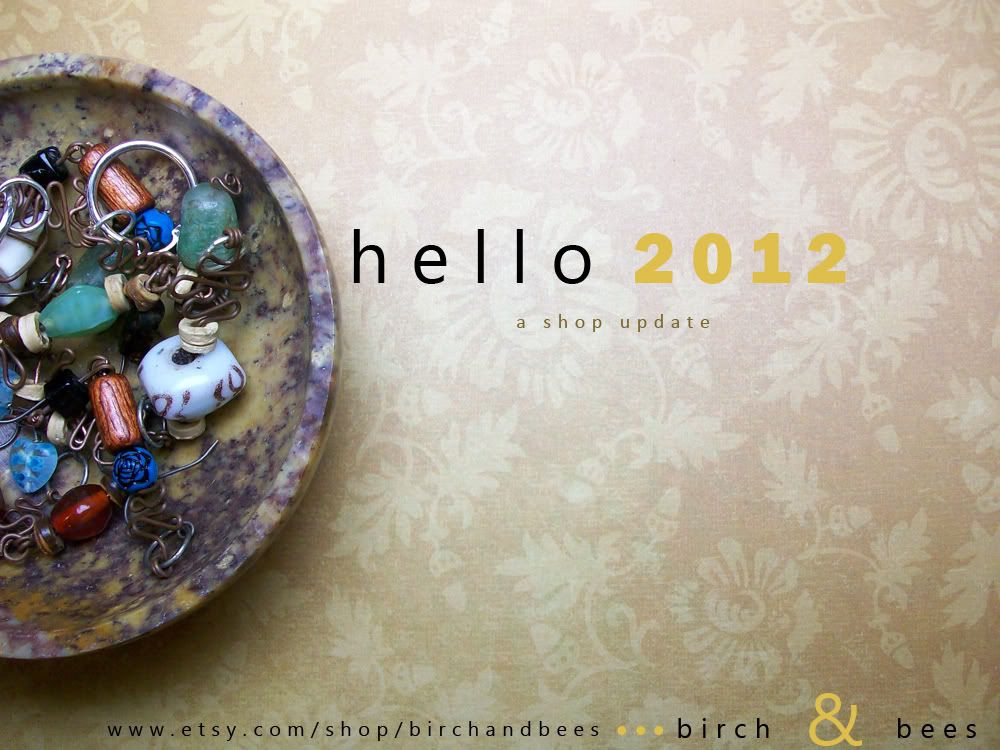 All of these lovely handmade goods were created December 2011 through January 2012, and are now available for purchase in the
Birch & Bees Shop
. I hope you enjoy!
Wirework Earrings & Pendants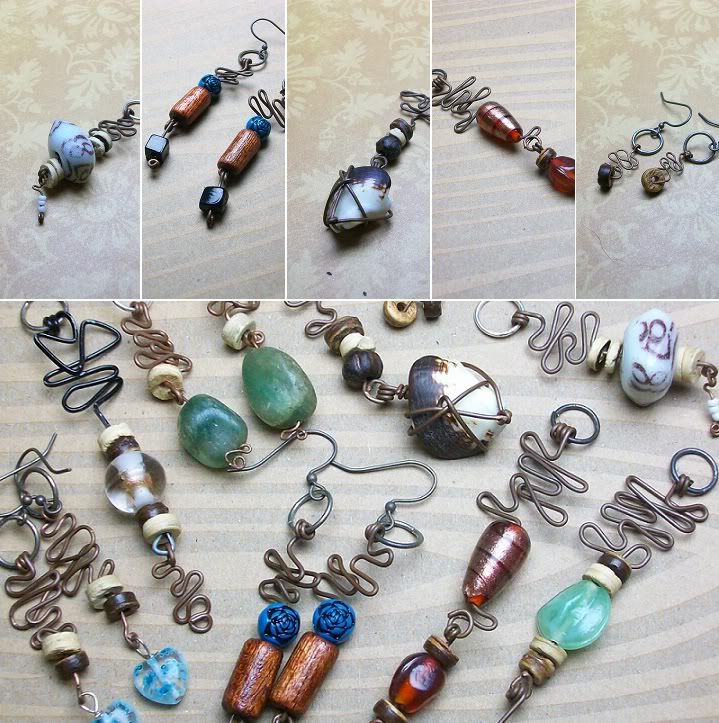 These wire-work jewelry pieces are the result of a late-night studio session. I loved the process of creating these pieces that I made the entire collection in one sitting. These beauties are something I'm incredibly proud of. I actually spent time in Daniel's Metals Studio, learning about making wire and changing it's thickness/gauge. I adore working with wire, particularly wrapping/trapping shells and things. I can't wait to experiment more with wire-working in the future!
Miniature Dream-Catcher Pendants
My favorite products to make and sell are the dream-catcher pendants. I adore each and every one I create. The (almost) standard size for a regular pendant is around two inches (in diameter), but now I've added miniatures! These adorable catchers are one inch (in diameter), and are updated versions of the regular Dream-catchers, having painted feathers, microbeads, and some one-of-a-kind glass beads.
(Interesting Fact: My idea for the miniature Dream-Catchers is that they would be named after baby woodland creatures, hence the names: Fawn, Cub, and Fledgling. I thought it was quite clever and cute!)
(These are a few Instagrams of this collection coming together that I've shared over the past couple months.)
And finally, here are a few of the big things changing with my shop:
I'm improving my shop photography
immensely by practicing taking pictures frequently, testing different lighting situations, and taking hundreds of photos during each photoshoot.
I'm actually planning look-book photoshoots
, instead of haphazardly putting something together. This is a long, difficult process, but I think it's worth it in the end.
I'm changing my pricing structure a bit
. (More about this later.)
I'm buying new supplies
from local/online small businesses. This makes me feel a lot happier inside about what I'm creating and selling.
I'm creating an entirely new packaging system
. With pretty boxes, papers, and decorations. The whole nine yards.
I have over a half dozen work tables
. Making jewellery, designing ideas, sewing, pinning fabric, paper crafts. doing paper work (like budgeting), packaging products to send out, painting, photographing products and DIY's. I officially have a space for every task I need to do on any given day.
I'm dedicating 100% effort, focus, and motivation towards my shop
. So much of my happiness comes from working on it. This year I want to bring it to the next level. (Very excited!)
I hope you like what you see! Its been fun to work on this little shop update. I put a ton of love into this small collection, I would love to hear what you think of it!
peace&love,