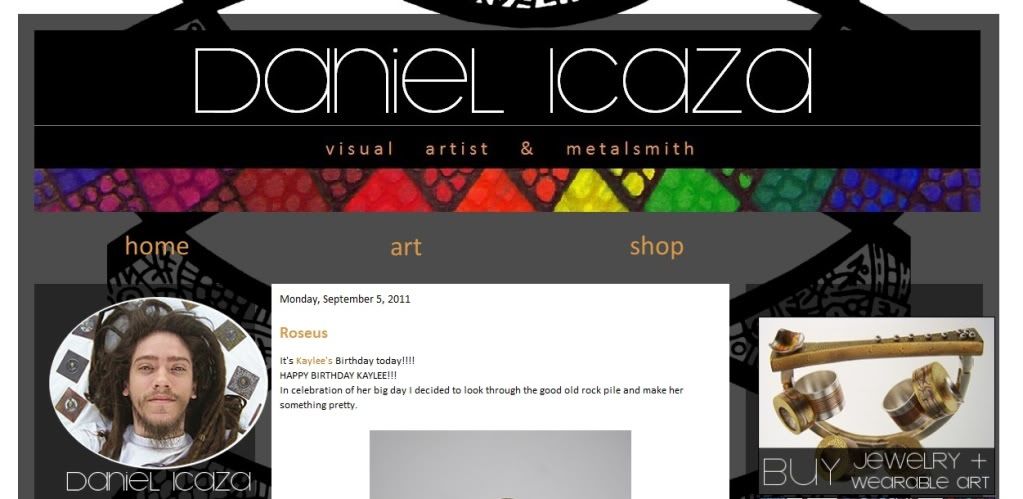 In late July, (maybe earlier, I can't recall), Daniel decided he need an improved design for
his blog
. Of course, I jumped at the chance to test my graphic designing skills and set to work immediately.
Daniel already has amazing business cards, fliers, brochures, and such things. (Which we never took photos of...) The challenge was to design his blog (and the rest of his websites) with a pre-determined design. After I tracked down the font, color schemes, and images used in his cards and fliers. I constructed
this blog design
off of Daniel's requests and ideas.
While I'm still working on setting up his online shop, portfolio, and other little bits,
the blog is finally complete
. Honestly, I'm quite pleased with how it turned out. There are numerous bits in the blog that will be changed and tinkered with in the future, I'm sure.
Although Daniel is in Italy right now, I went ahead and changed his blog. If you have a spare moment, pop over to his blog and let us know what you think of the design! It's not 100% complete, but it looks pretty nice to me!
Now, I must go celebrate my victory! I really hope you like the new look. (And I hope Daniel likes it too!)