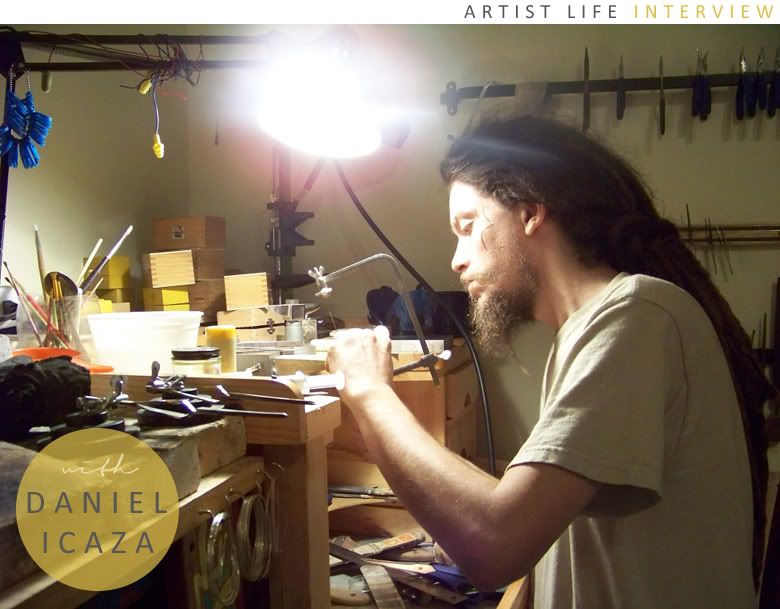 Q: Who are you? What do you do?
A:
My name is Daniel Icaza, I am a artist and treasure maker. (My blog is
danielicaza.blogspot.com
.) I currently live and work in Escazu, San Jose, Costa Rica.
My most well known bodies of work are, "
Monetary Bondage
", "
Universal Metaphor
" and "
Imperfect Geometry
". The majority of my work is currently sold in-person or through a gallery. I do have
an online shop
where I sell handmade rings and other crafted jewelry. I am also working on several new projects that I plan to launch in the coming year.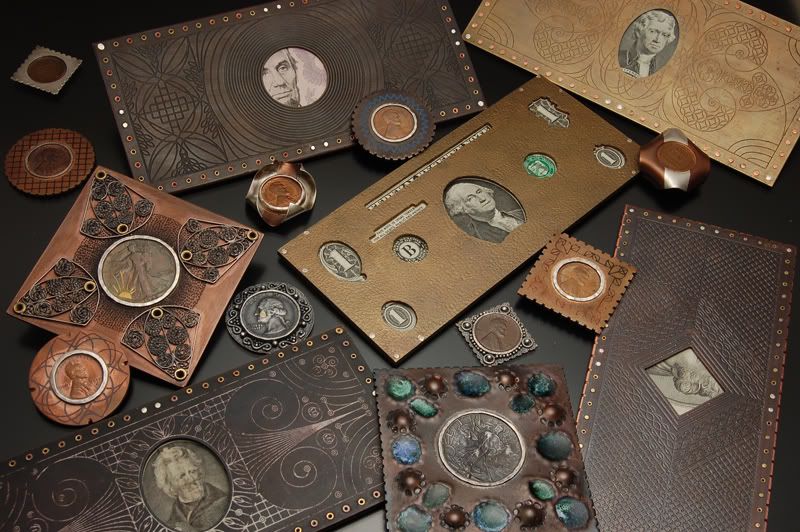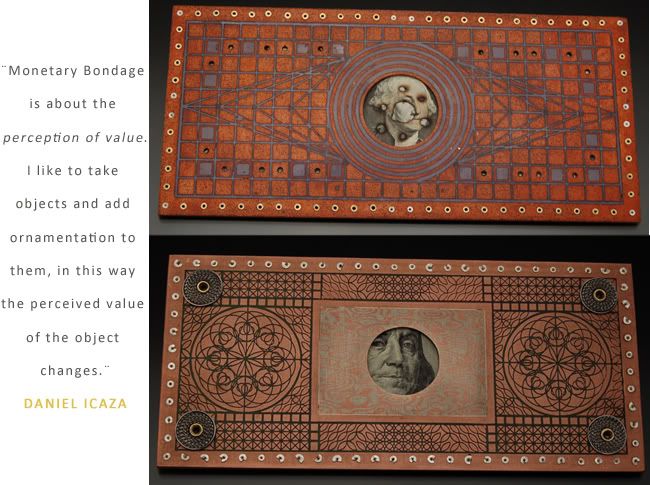 Q: Can you explain the concept of Monetary Bondage?
A:
"Monetary Bondage" is about the perception of value. I like to take objects and add ornamentation to them, in this way the perceived value of the object changes. To highlight this concept, I began to seek out objects that had an easily identifiable value. This is what eventually lead me to using coins and paper money, as their perceived value is almost universally recognized.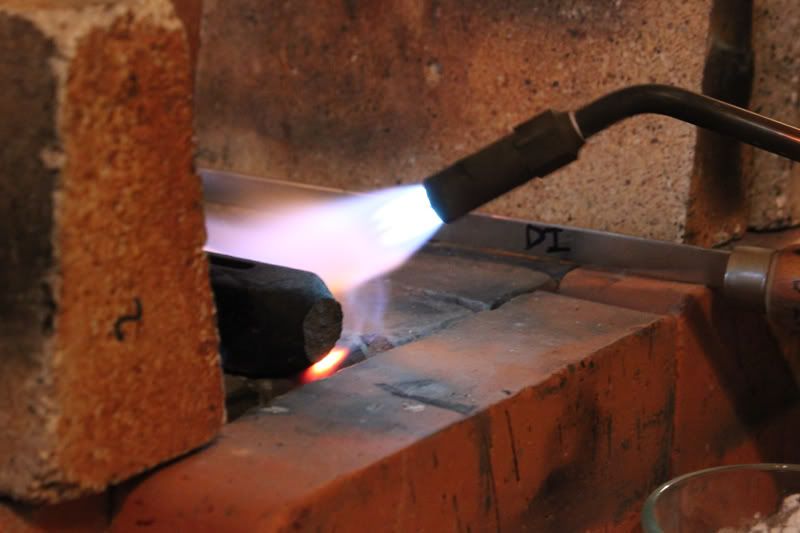 Q: Why did you decide to pursue metals/jewelry-making? What appeals to you about this medium/art form?
A:
I was originally attracted to metal work and other materials because of their mysterious aspects. I have always interacted with objects since I was a child, but I never understood how things were made. It always seemed like "magic". Materials for construction sites and household objects always arrive in a highly-polished, neatly-packaged presentation. Usually it's so shiny and distracting, we don't even think about how it was made. We're just mesmerized by it and become further enchanted with its functions.
I think of the first "Nintendo" my family had and all the countless hours spent playing silly games, but never even considering the effort and ingenuity that had to go into making the machine itself. These are the ideas that feed my curiosity for materials. Eventually, I became passionate about metals because of their resilient characteristics and properties.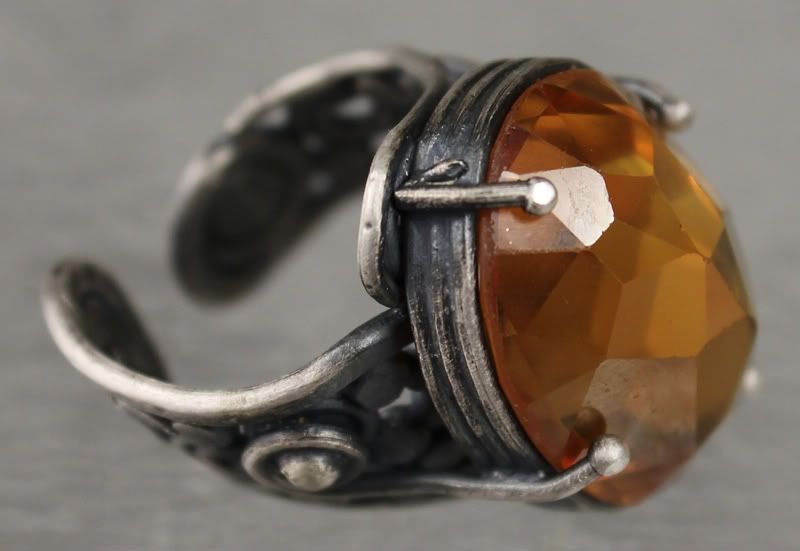 Q: Why do you choose to name your rings in Latin?
A:
Naming a piece can be one of the hardest parts of the creative process. There are many reasons as to why I choose to name pieces in Latin. In part, it is due to a personal interest in "dead language/s" and linguistics. I also think that the aesthetic characteristics that I enjoy using in my work project a sense of "timelessness" that is reflected in the usage of Latin.
The names I choose are always relevant to each individual piece in some way. Part of what makes naming a piece so difficult is the inspirational relevance. Sometimes the name comes to me immediately, before I have even begun to construct the piece. Other times, the name alludes me until the very end, and it doesn't materialize until I am sitting at the computer editing the digital photographs. These are just a few of the reasons why I enjoy using Latin to name many of my pieces.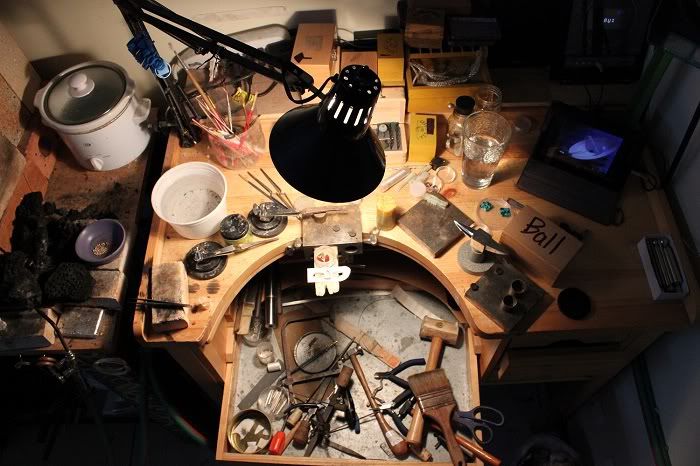 Q: Can you describe your studio / work space?
A:
My work space is as hectic as my process. I have my metal-smithing equipment and jeweler's bench in a room of my home that I call my studio, but various art projects have consumed the entire house. As a result, work takes place where ever, whenever inspiration strikes. There are all sorts of projects at all stages strewn about the house waiting to be completed.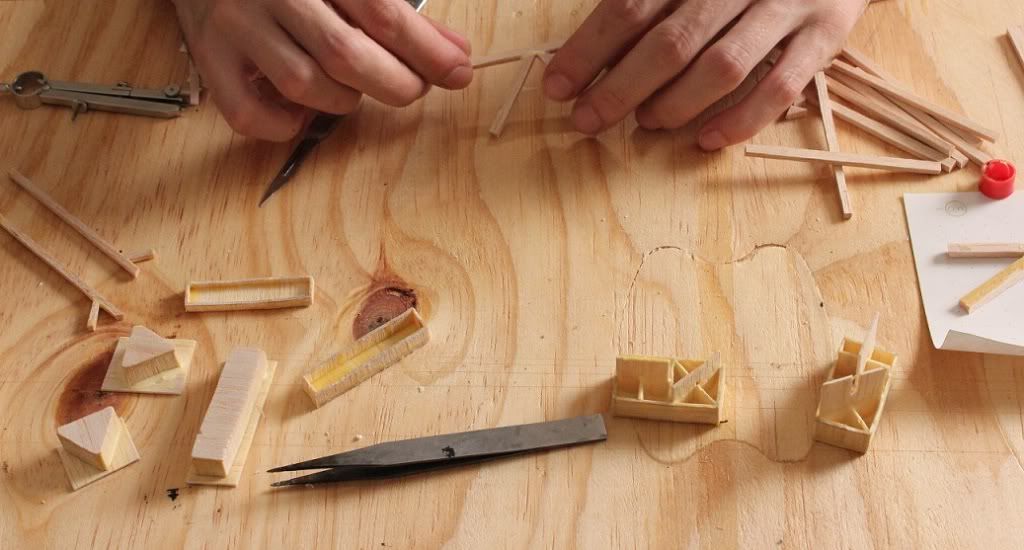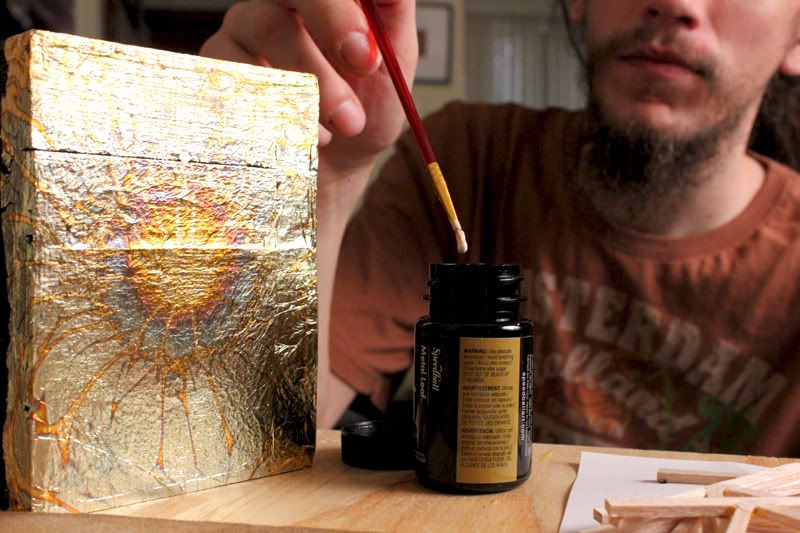 Q: What is your favorite part about being an artist/creator/maker?
A:
The challenge! Always having to think and ponder about symbolism and interpretation, context and perspective. Being an artist can be very interesting and a lot of fun, but it is very easy to romanticize the idea... Unfortunately, it is not an easy "career path" and being a creative problem solver is an essential attribute to be successful in "art". I love having to think things to pieces and being an artist requires me to think about things in different ways constantly. It's almost a love/hate relationship when it comes down to it.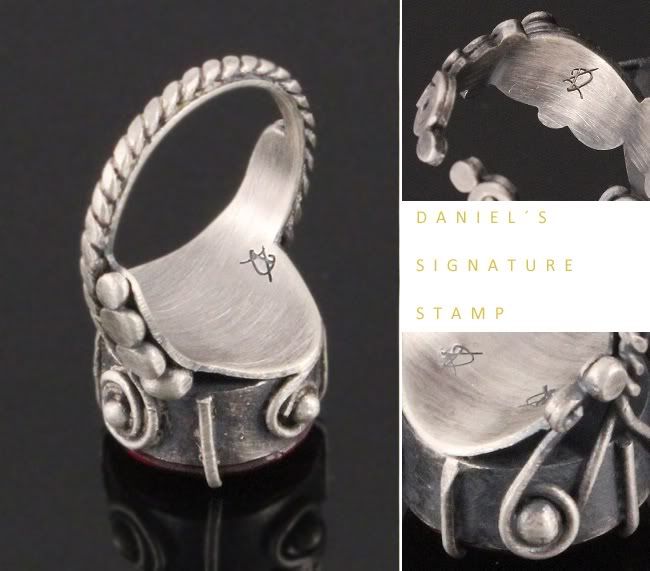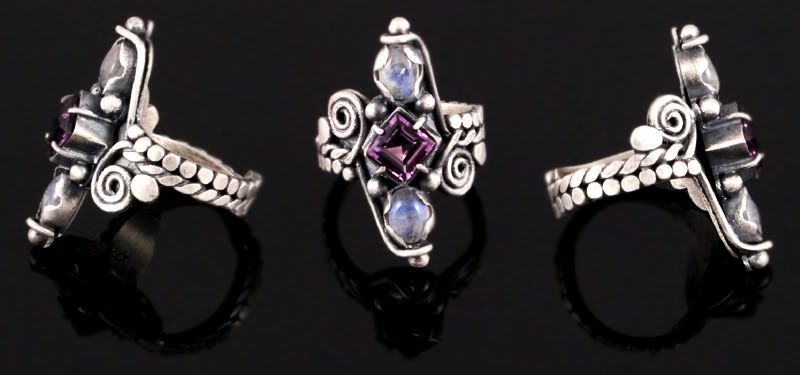 (Purpura Luna, Daniel Icaza, 2012, Sterling Silver, 1ct Amethyst, 1ct Moonstones)
Q: How do you spend your free time?
A:
I love animals and have several pets. Besides making, thinking and taking care of all the day to day needs, I enjoy taking the dogs outside for play time a few times a day and taking a break from the thinking to relax with some coffee. It is a little difficult to figure out what I do with my "free time" because I enjoy my work so much that I usually want to go do work more than any other activity. Almost like being a workaholic I guess but I carry a portfolio instead of a briefcase.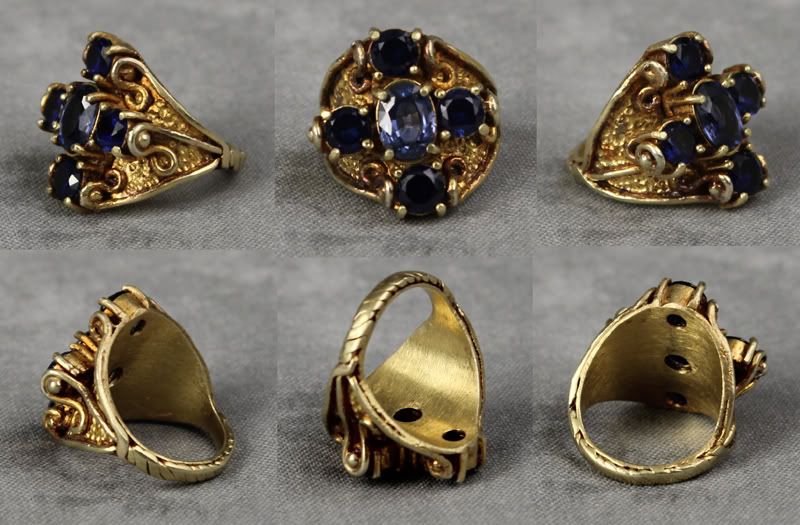 (Larimis Solis while in progress / Lacrimis Solis, 2012, 19kt Yellow Gold, 4 x .5ct Blue Sapphires, 1ct Blue Sapphire)
Q: What is your work process like?
A:
My work process is hectic to say the least. There are always an abundance of ideas running through my mind so it is often hard to focus. I usually have multiple projects going on from "Monetary Bondage" work to jewelry projects, paintings and drawings, etc... Although, when I do focus on a particular project, I can become obsessive and will not stop working until it is complete.
I try to write down all of the ideas that cross my mind but some get lost in the shuffle. I have a plethora of sketchbooks scattered around the house, ideas get jotted down all over the place and I often have trouble remembering where I wrote a particular thought or sketch. Depending on the size of the project or idea, sometimes I jump right in. In other instances, the ideas stay on file for future use or the right timing.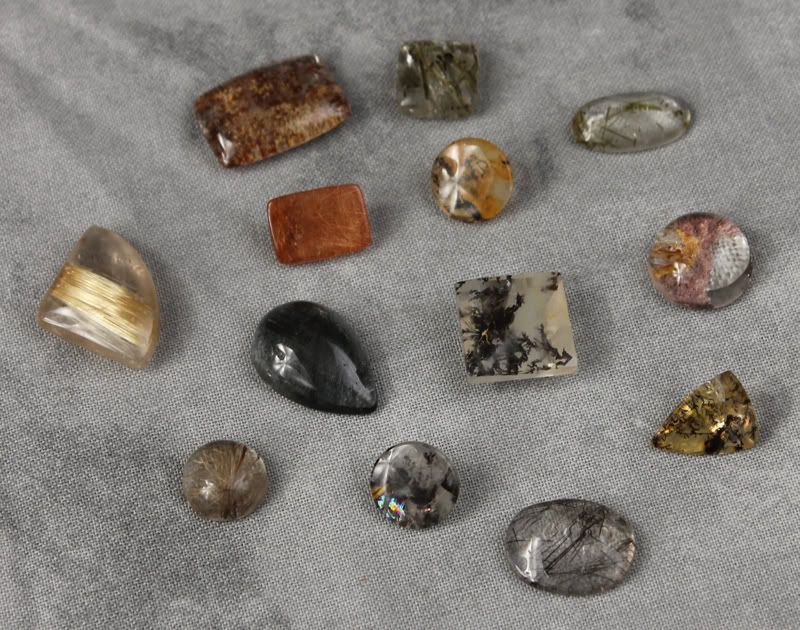 Q: Where do you draw inspiration from?
A:
Hard to pin-point as inspiration comes from so many different sources. Many times I am inspired by documentaries or stories from "mythology". But, I am often most inspired by people and the way we act. I love watch to people in public spaces, just sitting down on a bench with a sketch book doodling. Watching how people interact with one another and themselves is a fascinating and inspiring experience.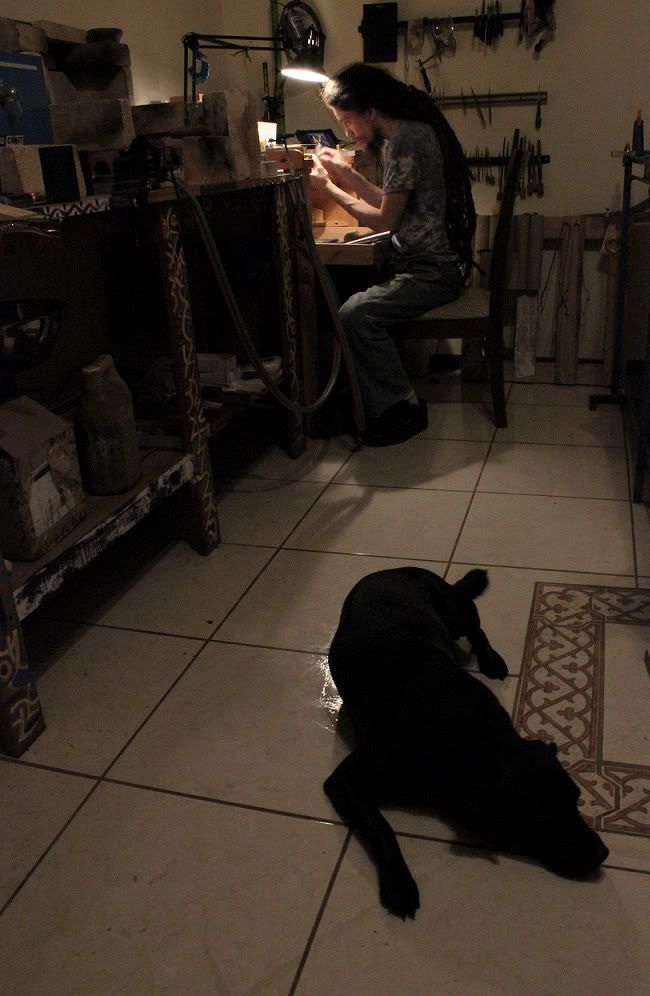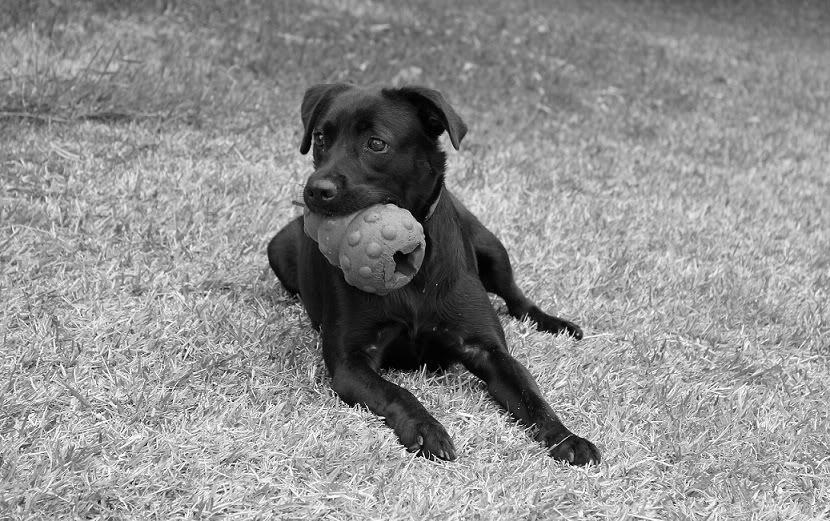 Q: Can you describe an average day in your Artist Life?
A:
I usually wake up in the late morning or early afternoon. I start almost every day by taking the dogs outside, letting them run around, do their business and play a bit. While they have their fun, I check the fruit trees in the yard, and maybe eat a fresh tangerine or banana, if they're in season. Then, I go back inside with the dogs, feed the fish, turtles, start making coffee and feed the dogs. Once I have a cup of coffee made, I hop on the computer. Check my emails and take care of whatever other "comput-ering" needs to be done (like blogging, photo editing, research or what have you).
At some point, I take a break to cook up some food. Once all the "comput-ering" is taken care of, I eventually make it into the studio where I tend to work until midnight at least, usually much later. I usually make it to bed by 2am or so, although it is not uncommon for me to witness the sunrise... Throughout the day, I will take a few small breaks for a cup of coffee, food or play time outside with the dogs.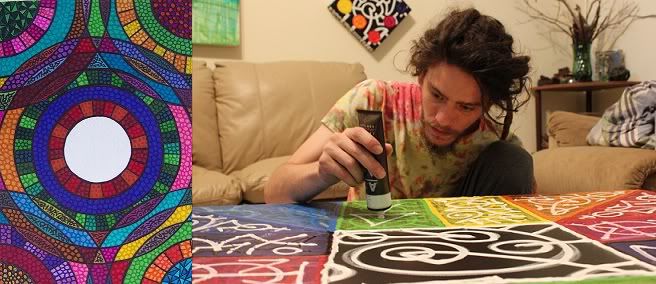 Q: Do you have any upcoming projects, product releases, or big events coming soon?
A:
Fortunately, I do have a fairly busy schedule at the moment and have many projects going on. Recently I returned from a trip to China, as I was accepted and invited to participate in the "5th International Beijing Biennale". Work from my "Monetary Bondage" series is on display from September 28th - October 22nd 2012. (You can
read more about my trip to China over on my blog
. And there are
plenty of photos on my Facebook
, as well.)
After Beijing, I am participating in a curated booth at "Red Dot Art Fair: Miami" in December (5th-9th) of 2012, where I'm exhibiting work from my "Universal Metaphor" series of work.
I also have a group show in 2013 at the "Southern Nevada Museum of Fine Art" and a solo exhibition scheduled for June of 2013. Those are all of the big upcoming shows that are scheduled for now and I am sure there will be even more to come soon.
----------------------------