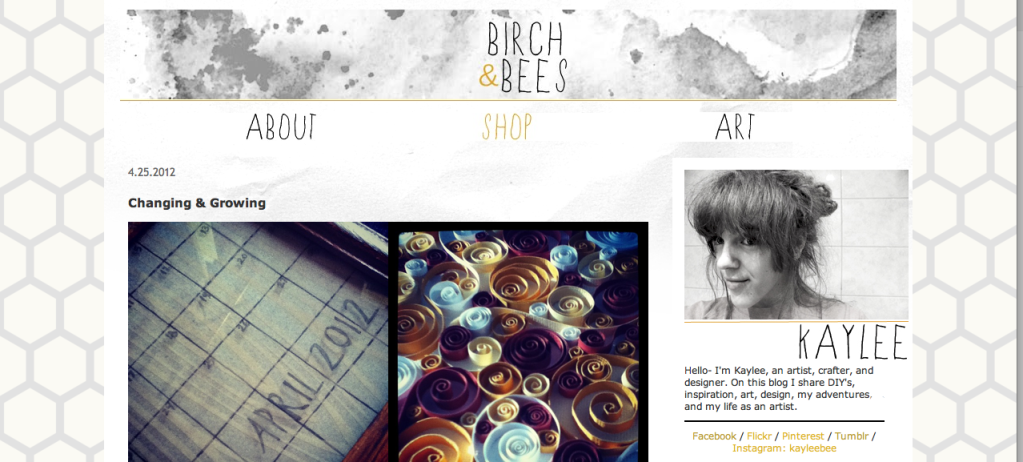 Birch & Bees - New Design, Spring 2012
The past couple days I've been working on a fresh new design for Birch & Bees. And this is the result thus far! I'm going to continue tweaking, updating, and messing around with a few things. But I wanted to share a few of the new parts of this design & update.
Black, White, & Gold.
One of my biggest problems with the last design was that it created competition with all of my colorful photos. The major goal of the re-design was to give the entire layout a monochrome color scheme. Black & white with pops of gold. I'm so pleased to have a design which gives more attention to the art, writing, and photos.
Simple and Clean.
I'm also feeling a strong need to simplify in all areas of my life, but the blog is the first area to tackle. I've attempted slimming down the design to something more manageable. I'm still devising ways to make the blog more simple, yet visually interesting, and easy to read/browse.
The Header.
I spent hours and hours drafting ideas for headers. I created dozens in photoshop, and deleted nearly all of them. I knew I needed a black and white photograph of something which is close to my passion for art, craft, and creating. I eventually settled on a close-up of a watercolor painting I created. (
I'm already planning to continue evolving the design of the header. Hopefully one day I'll arrive at something which I love. But for now, this will do well.
)
New Posting Styles & Content.
One of the reasons I decided to update the design again is because of
my burning desire for change
. A change I've been wanting to make for a long time is opening up this space to more of my artistic/personal thoughts and reflections. And a new design is the physical representation of those changes. Along with more personal style posts, I hope to share more of the artists, creations, music, and stories which inspire me.
As I've mentioned before, I'm a very indecisive person. I swing from project to project. Idea to idea. And in a few months, the design of this blog will inevitably be updated once again. But for now, I'm going to enjoy it.
peace & love,