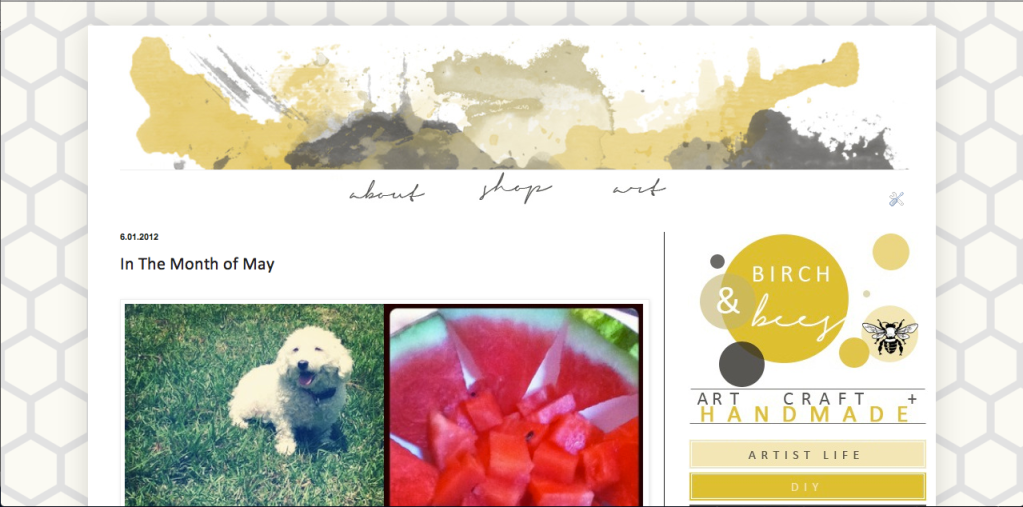 (The new Birch & Bees design. Clean & Fresh.)
Once again, things are looking a bit different around here. As I mentioned, I've been working out all sorts of great ideas for my blogs and shops. This fresh design is one of them! I know I frequently change the look of this blog, but this time the new design is a reflection of some changes happening within the blog as well.
Clean Design. This design is the probably one of the best I've come up with so far. I've decided to focus on two fonts, three shades of color, hexagons and circles. It's the perfect combination of shapes and colors for me.
A New Focus. I've removed my photo and links from the sidebar and put them in my "About" page. Mostly because I've realized that the true purpose of Birch & Bees is not for me to talk about all that I do. I think I've always wanted Birch & Bees to be a gallery of all that is inspiring and beautiful in the art world. It's only just now that I've begun to embrace that idea.
The Artist Life Series. As I'm starting to treat this space as a gallery, I've decided to start a brand new feature. The Artist Life Series is an interview series with creators, makers, and artists from all over. I love reading interviews with creative folks, so I'm really excited about this series!
Curated Collections. I've also decided to share more curated collections of art, crafts, and creations from other talented artists. These collections will be tastefully organized and visually enchanting. My desire is to share amazing handmade goods available today and generate exposure for the people who create them.

I'll still be sharing my latest creations on
the Studio Saturday feature
. I'll also continue to share
my Project 365 Instagram photos
until the Project concludes. But you can expect less personal updates to show up here, and more posts sharing other art, artists, and inspiration.
peace & love,